Honey tasting course
How well do you know your honeys?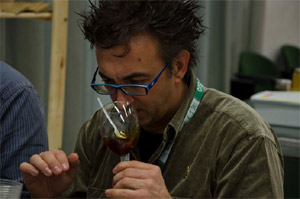 Honey sensory analysis courses in English are going to be held in Bologna. Every year in June we will schedule the "Introduction" class, next dates are:
Every second year we'll schedule an "Advanced" class, only for those people who already attended the introduction class.
ADVANCED HONEY SENSORY CLASS
October 21 – 23, 2019
TBD, 2021
For other events/partnership click here.
Pre-registration will be opened 6 months before the beginning of each course. People that fill out the following form (up-to-date form) will be alerted.
(Would you like to be kept up-to-date on pre-registration opening, future courses and events? Click here!)
The goal of the course is to increase awareness and expertise in honey and to provide participants with a methodology that enables them to assess the quality and the variety of honeys. For beekeepers and packagers, it is useful for correct labelling according to EU regulations, better product presentation and for honey lovers in general, for better selection and appreciation of honey
The course is intended preferably for beekeepers and technicians, but also for other professionals who are in contact with honey (such as herbalists, nutritionists, dieticians, chefs or "foodies"), and all those who are eager to expand their knowledge of honey and learn how to use sensory analysis as a tool for quality assessment.
Anybody can attend the course. The course is 24 hours in length.
TIME: 9:00 am - 6:00 pm
LOCATION: CNR via Gobetti, 101 Bologna, Italy (click for information)
COST: €340 per person (10€ extra for non SEPA payment)
INSTRUCTORS: Raffaele Dall'Olio, Gian Luigi Marcazzan, Lucia Piana, Andrea Tibaldi
NOTE: An additional 4 hours of teaching (9am-1pm), on the day following the course end, is available for those who wish to have their certificate of attendance accredited by the National Register of Experts in the Sensory Analysis of Honey. For the additional day and certificate there an extra cost €80 is required (total cost €420).
You can read more info regarding the honey sensory analysis and the course at:
https://www.facebook.com/financialtimes/videos/10155789884540750/
https://www.paulacarnell.com/bees/honey-sensory-analysis-course-part-1/
https://www.paulacarnell.com/bees/honey-sensory-analysis-course-part-2/
https://www.sbs.com.au/food/article/2018/03/01/italy-giving-world-honey-sommeliers
Mieladictos blog talks about our honey sensory class (spanish language)
"Peter Lewis' article 'The Different Taste of Honeys' published on Bee-Craft magazine"
https://www.killerbeeshoney.com/blogs/musings/attending-the-honey-sensory-class-in-bologna-italy
Video: Honey: flavour from the land
REGISTRATION FOR JUNE CLASS
To enrol, fill out the form you find here.
Please note, for multiple registration fill out one form for each person.
Participants will be limited to about 24 to maintain an informal interactive format.
About the class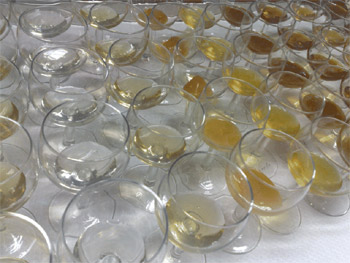 You will learn how honey is produced by bees and by beekeepers and all the hidden dangers honey production encounters.
You will test how sensitive your senses are and will improve your sensory discrimination capability.
You will taste more than 15 varieties of selected high quality Italian honey, and be trained to recognize defects in honey.
You will learn to detect the flavour profiles of honeys.
You will experience being a judge in a mock honey competition.
Honeys tasted will include (but are not limited to):
Citrus (Citrus spp.)
Dandelion (Taraxacum officinale)
False acacia (Robinia pseudoacacia)
French honeysuckle (Hedysarum coronarium)
Gum tree (Eucalyptus spp.)
Honeydew honeys
Lime (Tilia spp.)
Rape (Brassica napus)
Rhododendron (Rhododendron spp.)
Strawberry tree (Arbutus unedo)
Sunflower (Helianthus annus)
Sweet chestnut (Castanea sativa)
Thistle (Galactites tomentosa)
Thyme (Thymus capitatus)
Participants are invited to bring their own honey. It will be tasted by all.
For detailed program see here.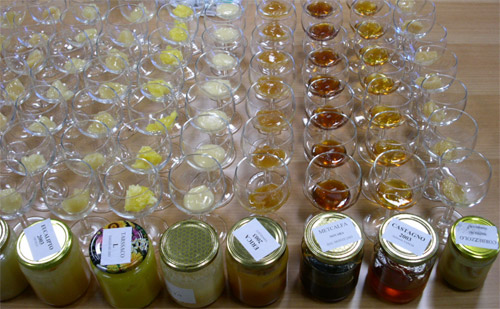 Teachers
The teachers belong to the "Teaching body" recognised by the Italian Register of Experts in the Sensory Analysis of Honey.
Gian Luigi Marcazzan
Gian Luigi Marcazzan is the leader of the Honey Sensory group within the International Honey Commission and the President of the Italian Register of Experts in the Sensory Analysis of Honey. He has been a researcher and technical manager for honey quality control by chemical and sensory analysis at the Agricultural Research council in Bologna, Italy for 26 years. Gian Luigi has served as a panel leader for the international honey competition BioMiel.
Raffaele Dall'Olio
Raffaele Dall'Olio is a beekeeper and animal biologist with a master's degree in honeybee pathogens diagnostic, skilled in artificial insemination of honeybee queens. He has more than 10 year of experience in honeybee research and teaching focusing on genetic conservation of honeybee breeds, detection of pathogens and viruses, improving quality of beekeeping products. He's member of the international research networks COLOSS (on Colony Losses) and RNSBB (about Sustainable Bee Breeding). Raffaele has commercial experience with 150 hives in Tuscany, Italy and queen-rearing experience and manuka honey in New Zealand. As an internationally sought out speaker including Apimondia and the European Conference of Apidology, Raffaele has more than 10 years' experience as a teacher and professional honey taster and as a panel leader for the Italian National Register of Professional Honey Taster and member of official Panel Test at CRA-API lab since 2005 and in several Honey Contests. In 2015, he found "AsSenso", sensory analyses as an R&D tool for businesses. Raffaele also has written for national beekeeping magazines in Italy such as L'apicoltore italiano, Lapis and APOidea.
Lucia Piana
Lucia Piana is a biologist and she spent her entire professional life on honey related topics. For the first 12 years, she worked as quality manager in a honey company, doing honey analysis (physico-chemical, melissopalinological and sensory). Since 1991 she has worked as consultant for different companies, research institutions and beekeeping organizations, in Italy as in other countries, mainly in the field of honey quality and teaching sensory analysis of honey. In 2006 she founded her own company, now Piana Ricerca e Consulenza srl, a laboratory and consultancy company offering a full range of services, mainly melissopalinoligical analysis and honey tasting courses. Since 1981, she has been technical coordinator of the leadingn Italian honey contest, organized by Osservatorio Nazionale Miele. She is one of the the founders of the Italian National Register of Honey Sensory Experts and she continues teaching in training courses for the Register. To date, she has conducted more than 450 sensory training courses and seminars, spoke in more than 350 lectures and conferences and wrote more than 150 technical articles.
Andrea Tibaldi
After graduating in Mechanical Engineering (2002) and later (2006) in nutrition biology, Andrea Tibaldi has dedicated his professional life to food and health disclosure. In 2003 he founded www.cibo360.it, a website with more than 8000 pages on healthy living, food, sport, gastronomy, traditional and healthy cooking. In 2007 he started a cooking school, that now runs 25 courses a year, in most of them he is also the main teacher. He has been a member of the Italian Register of Experts in the Sensory Analysis of Honey since 2009 and a teacher on the Register since 2013. He is also a wine, cheese and olive oil taster.
What you will learn
to become more aware of your senses learning how to identify 7 basic aromas and flavour families in honey.
to write detailed tasting notes using the honey aroma and flavour wheel, brush up on the composition and physical properties of honey.
to enrich your vocabulary for describing honey through descriptors.
the difference between taste and flavour through sensory exercises.
to recognize the flavours of honey and train your honey palette.
to taste and learn about 15 important honeys and their floral sources.
to understand the how's and why's of crystallization, and how to evaluate its qualities.
about the causes of defects in honey and how to avoid them.
how to use a chart for honey assessment.
how to handle, treat and store honey for a better presentation.
the rules for honey labelling and marketing.
how to use your knowledge to confidently pair honey with cheeses, wines and all ingredients to compliment sweet and savoury dishes.
What you will get
A tasting of at least 15 varieties of honey selected from beekeepers and honey competitions all over Italy
A tasting of some honey varieties from other countries
Notes on the flavours of honey
Teaching material: pen, exercise book, booklet with printed slides
PDFs of the slides presented in the class
A certificate of participation
NEW EVENTS / PARTNERSHIP
INTRODUCTION COURSE IN CONNECTICUT
July 11-14, 2019 – Sold out.
October 10-13, 2019 – For information click here.
INTRODUCTION COURSE IN LONDON
November 12-15, 2019 – For information click here.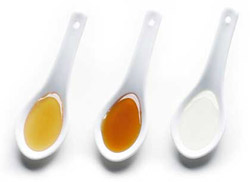 If you have any further questions, ask us in an email:
Gian Luigi Marcazzan & Raffaele Dall'Olio